BLUMENTAL is the accomplishment of the idea to create an autonomous living space with all that can be offered to its residents and tenants.
he project brings modern quality of life into the area surrounded by municipal roads on the border of the Bratislava Old Town and historical suburb of Blumental which brought the development of the city little by little to its center.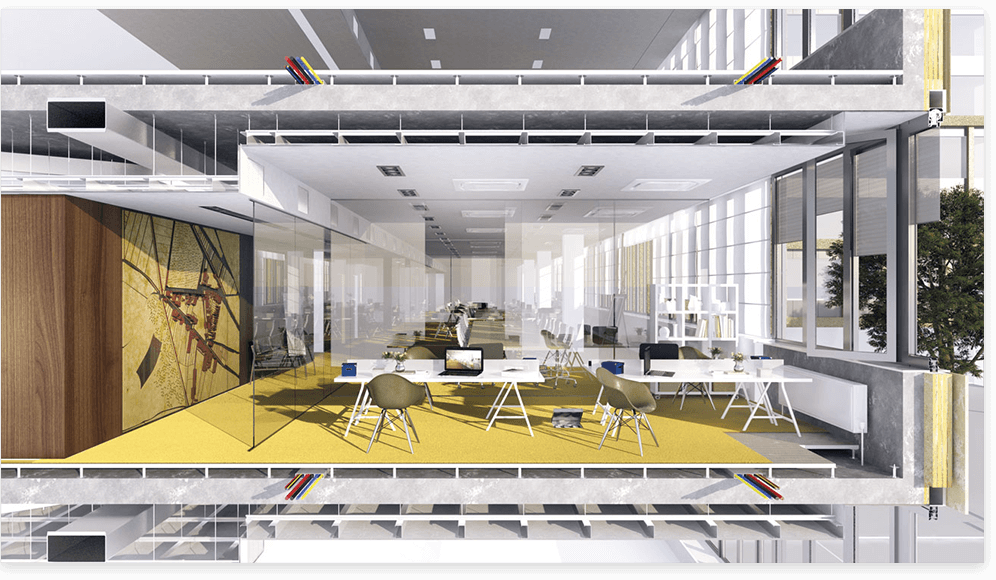 Fresh air exchange 50 m³ /hour/person
Bearing capacity 500 kg/m²
Flour-mounted socket-outlet
Opening windows in each room
WHAT HIDES UNDER THE COVER?
High quality of space realization
energy-efficient building – LEED certificate
building with excellent characteristics of heat-power engineering with triple glazing and exterior window shading.
rain water utilization
usage of natural materials
intelligent building management system (BMS)
openable windows in facade, natural ventilation
building access 24/7 and security 24/7
barrier free entry to the building
maintenance and cleaning service
vertical heavy-current distribution installed by busbar system that ensures the power supply for administration floors
security turn-stile at the entrance of the office space enable individual access via identification card with wide variety of applications and possibility of adapting to different security standards of individual tenants
closed-circuit television (CCTV) on the building facades ( entrance to the administration part, courtyard, garage entrance/exit, emergency exits, employee entrance, the main outdoor parking area vistas)
electronic fire alarm system in the whole building
voice evacuation system in the whole building
diesel – fueled standby generator provides power supply for fire protection system, security system and lifts
Standards for rental office space
all spaces can be designed and fitted to the requirements of tenant
sufficient natural lighting
openable window in each space with cooling and heating management
clear height of spaces – 3 m
exterior window shading
raiced floors with floorboards with load capacity 500 kg/m2
suspended drywall ceiling in combination with paneled ceiling with high standard, called. indirect lighting and luminance intensity 500 lux
structured cabling category 7
partition walls between tenant spaces 54 – 58 dB
the highest quality of realization of common spaces (lobby, sanitary facilities )
2-pipe fan coil system
supply / change of fresh air in a volume 50 m3/hr./Person
Parking
Blumental provides its tenants convenient parking with 650 parking lots in the underground garages. There is 70 parking lots reserved for visitors. The safety of the garages will be provided by security cameras monitoring and includes detection of CO and fire control devices.
The location near city center has advantage of easy access to services, administration, culture and education institutions.
Apart from services directly in the building there are other shops and services which are part of the neigboring residential block.
24/7
Barrier free access to the building is provided every day for 24 hours. The security service monitoring the safety of the object through security cameras placed on the facade and all key points operates nonstop as well.
Important element of the security system is touch free identification card with broad spectrum of use.
The whole object has electronic fire signalisation system and evacuation radio system. In case of electricity cut off the functionality of security systems and elevators stays in operation through connection to a diesel aggregate.

24/7 access

Barrier free access

Nonstop security service

Electronic fire signalisation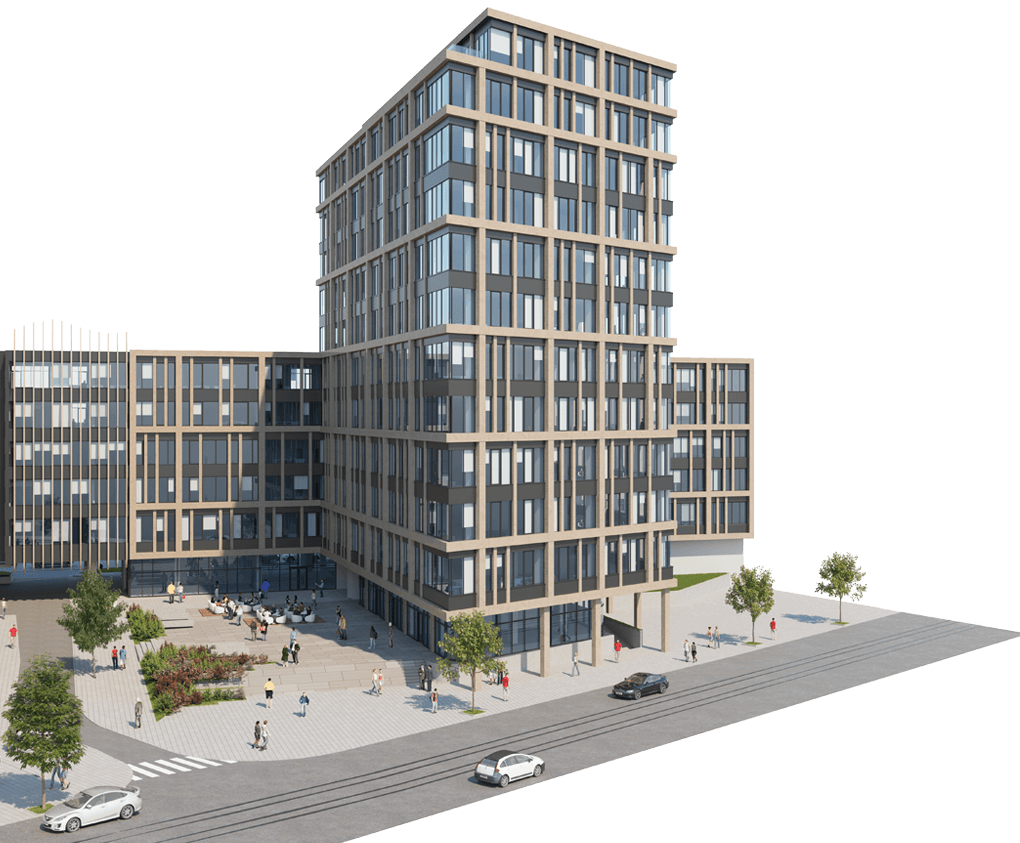 2.NP
3.NP
4.NP
5.NP
6.NP
7.NP
8.NP
9.NP
10.NP
11.NP
12.NP
1.OP
GROUND FLOOR
Free m2 0.00
Commercial administrative object is created by a consistent urban unit with residential blocks. Thanks to its flexibility the project can accomodate also the needs of companies with less employees. Together with the height of the building , which with aim to respect the character of the location reaches just six floors, it creates a pleasant, peacefull and inspiring working environment.
| | | |
| --- | --- | --- |
| 11th | Available space | 0,00 m2 |
| 10th | Available space | 270,00 m2 |
| 9th | Available space | 0,00 m2 |
| 8th | Available space | 430,00 m2 |
| 7th | Available space | 0,00 m2 |
| 6th | Available space | 0,00 m2 |
| 5th | Available space | 280,00 m2 |
| 4th | Available space | 0,00 m2 |
| 3rd | Available space | 0,00 m2 |
| 2nd | Available space | 215,00 m2 |
| 1st | Available space | 0,00 m2 |
| GROUND FLOOR | Available space | 0,00 m2 |
Total office space 1.195 m2
Commercial space
| | | |
| --- | --- | --- |
| 1.np | Available space | 200 m2 |
| 1.np | Available space | 83 m2 |
Total commercial space 283 m2
TYPICAL FLOOR
1 Photos
1 Photos
CONSTRUCTION
74 Photos
Each place, each building, each location has a deep memory. A memory of what happened on that place. The memory of the place of the Old Tobacco factory will be carried on by BLUMENTAL project dedicated to work, the administrative building and its facilities. From the first sketches of this part of the project we have been working on the premises which will not disturb but inspire. We worked on sun lighted areas with fragments of walls creating shades, public areas, green square made for relaxing and getting new energy for another part of the day. Cafes, restaurants, benches and all others made for true enjoyment of the whole third of our life called work.
— A1 Architecture
Braňo Kaliský, Martin Maršala, Luboš Kružel a Juraj Pařil